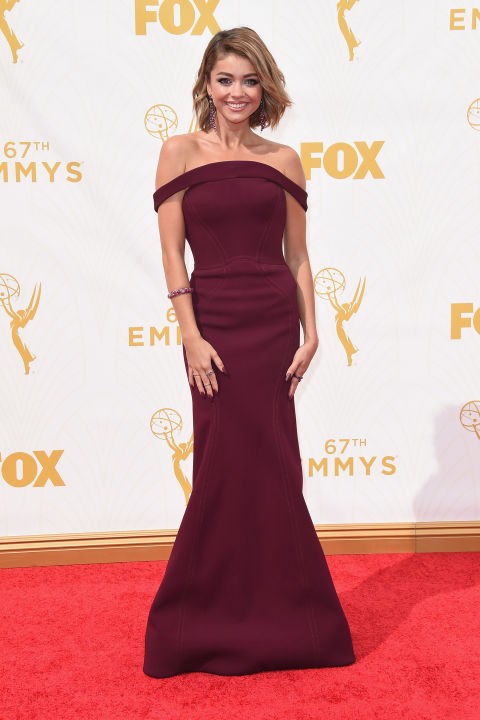 Sarah Hyland rocked the Emmys Carpet in this stunning off the shoulder Zac Posen dress. The color of this dress really complements her skin tone and really brings in the fall season. This dress is so gorgeous on her, and may I say her stylist did an amazing job with the accessory choices. Sarah pulled this look together with easy waves and a fresh faced makeup look, with a bold eye.
Ariel Winters took the "Red Carpet" to another level in this stunning red Romona Keveza original. I'm really liking the asymmetrical neckline. She looks so amazing, and I think the silver accent jewelry and Big Glamourous curls really tie the look together.
Gina Rodriguez reminds me of the ice queen in this Lorena Sarbu (in the best way possible). Snow looks like it is falling and hanging around her body. I also like how her stylist choose to pull her hair back, which judging from the heat was not only a very elegant choice, but a practical one.
Maisie Williams is giving me some serious nostalgia in this ensemble. Girly and Pink is the theme of this outfit. Ermanno Scervino did a really nice job with this dress. Can we just talk about her shoes? They remind me of this famous pen...
Emma Roberts looks amazing in this Jenny Packham original. Her blonde hair looks amazing against this champagne colored dress. This dress is very easy and flowy and I really like it.
But the hot ticket item of the Red Carpet was something new. #SmartGirlsAsk
Amy Poehler's online community Smart Girls started this hashtag to enable women to be asked the red carpet questions that should be asked, other than the just " who are you wearing?", by letting twitter users tweet in questions for the women attend the Emmy's. Want more information:
http://fortune.com/2015/09/21/emmy-red-carpet-questions/
_____________________________________________________________
Photos:
http://revista.icasei.com.br/wp-content/uploads/2015/09/red-carpet-emmy-awards-2015-sarah-hyland-de-zac-posen-getty-images-revista-icasei.jpg

http://i1.wp.com/okmagazine.com/wp-content/uploads/2015/09/ariel-winter-2015-emmy-awards-redcarpet.jpg?fit=600%2C9999

http://www.glamour.com/fashion/blogs/dressed/2015/09/emmy-awards-2015-fashion-dresses

http://i.imgur.com/6hnYHuy.gif