The Daisy Trend
The daisy print has been popping up everywhere recently. It can be spotted on shorts, dresses, and even on headbands. Personally, my first impression on the trend was that it looked kind of juvenile. However after seeing it pop up so often, it really started to grow on me. So the question is why is this print so popular?
I saw the daisy print a few times last spring but it really didn't make its impact until this spring. There are a couple reasons I love this print so much. For starters its the PERFECT floral pattern. Its one of the few floral prints that don't SCREAM "grandma":) Usually the print is displayed on black fabric giving it more of an edgy but girly look to it. I think another reason why I like this print so much is that my first impression of it made a lot of sense. This print is very youthful looking which is very good for the springtime. The spring is all about new life and youth which this print encompasses perfectly!!!
The daisy print is also very versatile. If you're going for more of a Bohemian look, this print is also perfect. I have recently spotted some of my classmates wearing daisy head bands that I have to say- if I may- were just " totally adorbs". This headband paired with a flowing lace shirt and some strappy brown sandals give you a glowing and youthful look that, again, is just right for the springtime!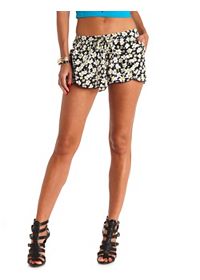 If your'e just as excited as me about " The Daisy Trend" stores like Charlotte Russe, Aeropostale, and many others have got you covered. These shorts were from Charlotte Russe.