I have to say everyone that attended the Teen Choice awards last night looked absolutely INCREDIBLE! In fact the whole night was incredible. Everyone really brought there A-game in the style deparment. An Amazing opening by Demi Lovato and Cher Lloyd followed by corny puns and great awards! Speaking of awards can I just say that The Fault in Our Stars , oh my goodness, not only did the cast look stunning but I'm pretty sure they won every single category they were nominated for! On top of that all of their speeches were so deep and thoughtful, man I love them.
Anyways back to the looks last night, like I said early, the stars brought their A-game! Well most of them in my opinion...
The Kardashians:
They looked great as a trio. They even color coordinated but I have to say, Kylie's look was my least favorite. It was pretty ordinary, and for the Teen Choice Awards + being associated with the Kardasians, you have such high expectations held upon you. So she really didn't do it for me. Kim took more of a winter approach with her leather black crop top , but that zebra skirt worked on her! Kendall looks like a super model with this structured white jumpsuit which even though it wasn't my favorite look, it was very flattering on this girl.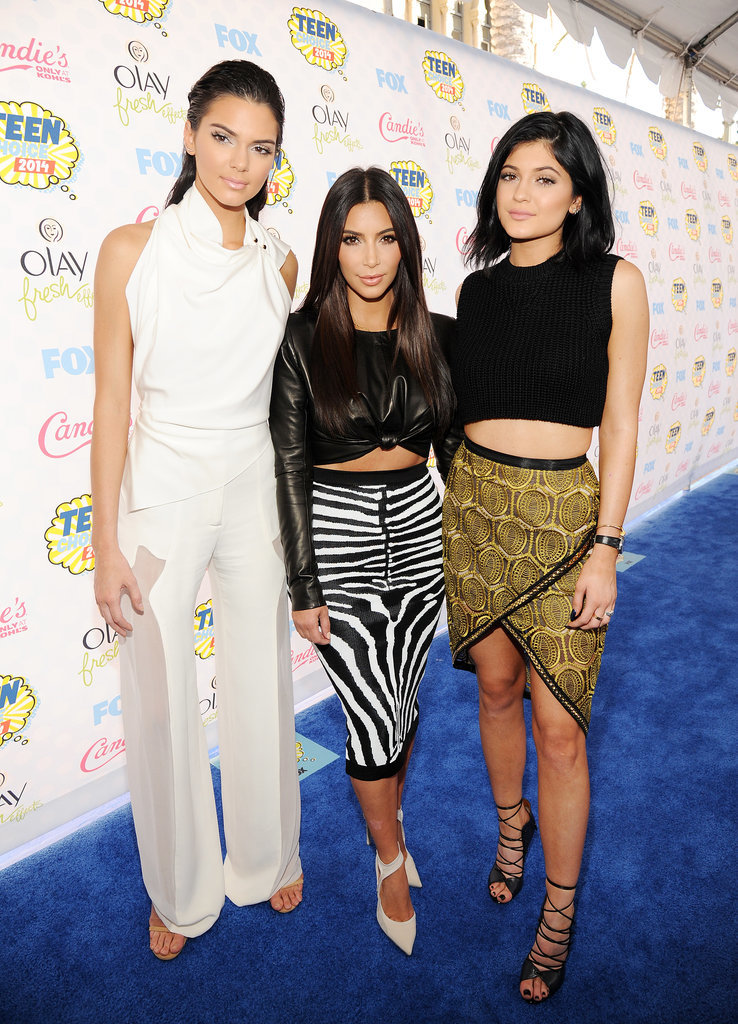 Photo: http://www.popsugar.com/Kim-Kardashian-Teen-Choice-Awards-2014-Pictures-35448802#photo-35449268
Taylor Swift:
Taylor showed up in a lime green, woven, two piece crop top and skirt. Her hair was simple and messy and her makeup was flawless. Her outfit definitely fit the event perfectly. I also love that she wore a pink lip this time instead of her classic red lips. She paired it with some yellow woven high heels which I feel didn't really matched but other than that this was a major hit for me. Taylor has been rocking it in the style department this summer, props to her stylist!
Photo:
http://paolatadhora.tumblr.com/post/94397373639/taylor-swift-is-ready-to-sweep-the-teen-choice-awards
Demi Lovato:
Demi broke out from the black edgy rocker look she's been pulling off lately. She owned the blue carpet with this amazing ivory thigh length dress with gold detailing. It shows of her curves in the best way possible. She also sported her new short do and subtle make up choice. Demi you were fabulous as always. After this look she took a 180 degree turn for her musical performance with Cher Lloyd, which is more of her personality.
Photo:
http://hollywoodlife.com/2014/08/10/demi-lovato-teen-choice-awards-dress-2014-pics/
Video from the VEVO youtube channel!
Selena Gomez:
Selena took a toned down approach last night taking some menswear inspiration here with her all black outfit. She paired it with a silver clutch to bring some color to the outfit and a very slicked back pony. Although she always looks glamorous and the outfit was flattering on her I don't feel like it was her at all . I don't know it just wasn't for me. But even though I wasn't a fan she still looks gorgeous and what a speech!
Photo: http://www.justjaredjr.com/2014/08/10/selena-gomez-goes-for-a-blackout-at-teen-choice-awards-2014/
Ariana Grande:
Ariana looked flawless! She had on a white, high neck, cocktail length dress on. And of course she had to break out her signature Ari-do with some extra volume for the high profile event. Her look was simple and glamorous and although she looked gorgeous, I wish she would have thrown a pop of color in there somewhere. I'm sorry Ari! But I still think it worked on her and I think it was great for the event.
Photo: http://hollywoodlife.com/2014/08/10/ariana-grande-teen-choice-awards-dress-2014-pics/
Chloe Grace Morez:
I think she looked fantastic. With this outfit choice, I think it was really a hit or miss. She looked super toned and the print of this ensemble was very tribal and ethnic which I personally love. However there are a lot of mixed opinions on this look, but I love the bold color choice and I think she looks great in red! I have to say though the bandeau top was pretty risky. Props for guts girly.
Photo: http://www.eonline.com/photos/13233/2014-teen-choice-awards-red-carpet-arrivals/403986
Bella Thorne:
Bella's blue floral dress with faux- deep neck line worked on her extremely well. I think her hair was a bit overwhelming to the outfit. I also think she could have done a little more with her makeup, however I still think she looked great.
Photo: http://www.eonline.com/photos/13233/2014-teen-choice-awards-red-carpet-arrivals/403893
<3 Stay Fabulous<3
_______________________________________________________________
So which look was your favorite? Also what was your favorite part of the 2014 TCA's? Click the title of this post and comment down below!
_______________________________________________________________